Card Entry Systems in Swansea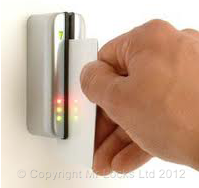 Locksmiths Swansea typically Install Card door entry systems to larger businesses, sports clubs, hotels, and retail environments in the Swansea area. Staff and authorised personnel are able to access many different doors within an organisation. The cards can also be programmed to allow staff access to some areas but not others, in this respect it is very much a commercial product and would rarely be used in a domestic environment. This type of system can be PC driven so that a log is kept of which staff have accessed which doors and at what time they did so.
Typically a card door entry system will consist of a card reader unit mounted on a wall next to a main entrance door, or in a hotel the card reader could be part of the door lock. An employee or authorised guest will swipe the programmed magnetic strip on their card through the card reader and this will send a signal to open the door. If it is an integrated PC system which many are, this information will be logged and an audit trail will be kept.
These systems are normally powered by a 12v AC or DC transformer which is connected to the mains.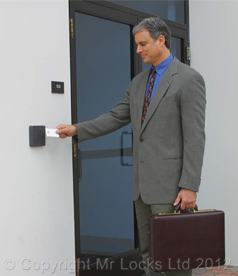 So if you need any type of card door entry system in Swansea, Call Mr Locks your local Swansea Master Locksmiths free on 01792 399800. Mobile users can also call on 07976 961473.
---